Rising Soil Stars
Wednesday 28 August 2019 from 17:00 to 18:30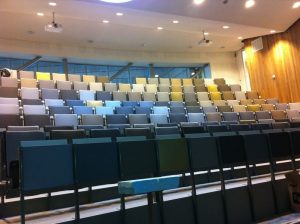 The science communication competition Rising Soil Stars allows ten young researchers to pitch their work to a broad audience in just three minutes, using nothing but a single slide to support their talk. We warmly invite everyone to come watch these bright minds present their work and decide who you think is most worthy of the title Rising Soil Star. Drinks will be served before and after the competition.
We proudly present the ten Rising Soil Stars:
Muhammad Aammar Tufail – University of Trento, Italy
Ssssshhh! Bacteria are coming to help you
Collins Amoah-Antwi –  Warsaw University Of Technology, Poland
Structural characterization of humic acids for predicting SOM turnover
Fabio Corradini – Wageningen University & Research, the Netherlands
Could the use of sludge as fertilizer be a gateway for microplastics to soils?
Anja Derycke – Ghent University, Belgium
Sampling contaminated sites: matching theory and practice
Thangavelautham Geretharan – School of Agriculture and Environment, Massey University, New Zealand
Is phosphate fertiliser derived soil fluorine harmful to N fixation by white clover?
Anna Gomes – University of California, Davis and Lund University, Sweden
What About the Water? Conservation Agriculture in California's San Joaquin Valley
Lisa Joos – ILVO – Flanders Research Institute for agriculture, fisheries and food, Belgium
A little knowledge can be a dangerous thing
Jeanne Maréchal – University of Rennes 1 (ECOBIO) and Sol Paysage company, France
Psychoanalysis of an urban earthworm
Lauren Menandro – Brazilian Biorenewables National Laboratory (LNBR / CNPEM) and University of Campinas (UNICAMP), Brazil
If the BIOworld is better, soil quality matters
Lena Schulte-Uebbing – Wageningen University & Research, the Netherlands
A sustainability indicator for nitrogen management should combine both environment and food production
Their pitches will be assessed by a diverse jury panel consisting of the following members: